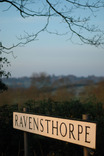 Ravensthorpe is a village and civil parish in the Daventry district of the county of Northamptonshire in England.
The village lies approximately midway between Northampton and Rugby.
The M1 motorway is six miles west and the nearest railway station is at Long Buckby.
At the time of the 2001 census, the parish's population was 656 people.
Services within the village include a shop, a pub named 'The Chequers', a playing field, a pocket park and a woodland maintained by the Woodland Trust.
In 1870-72, John Marius Wilson's Imperial Gazetteer of England and Wales described Ravensthorpe like this: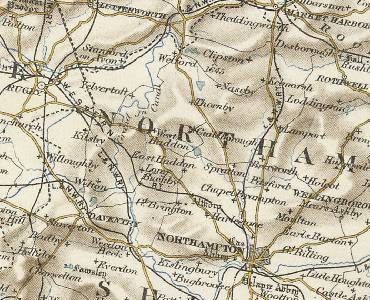 RAVENSTHORPE, a village and a parish in Brixworth district, Northampton. The village stands 4½ miles W of Brixworth r. station, and 8 N E of Daventry; and has a post-office under Northampton. The parish contains also the hamlets of Coton and Teeton. Acres, 2, 871. Real property, £5,693. Pop., 701. Houses, 155. The property is subdivided. The manor belongs to Lord Willoughby de Broke. The living is a vicarage in the diocese of Peterborough. Value, £300.* Patron, Christ Church, Oxford. The church consists of nave, aisles, and chancel, with porch and tower; and has very fine arches, of horse-shoe form, separating the nave from the aisles. There are a Baptist chapel, a national school, and 33 acres of land for the benefit of the "honest and industrious poor."