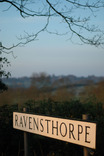 Ravensthorpe is a village and civil parish in the Daventry district of the county of Northamptonshire in England.
The village lies approximately midway between Northampton and Rugby.
The M1 motorway is six miles west and the nearest railway station is at Long Buckby.
At the time of the 2011 census, the parish's population was 646 people.
Services within the village include a shop, the Chequers pub, a playing field, a pocket park and a woodland maintained by the Woodland Trust.
In 1870-72, John Marius Wilson's Imperial Gazetteer of England and Wales described Ravensthorpe like this: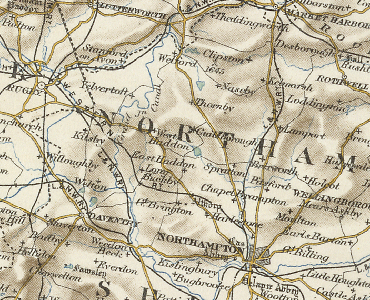 RAVENSTHORPE, a village and a parish in Brixworth district, Northampton. The village stands 4½ miles W of Brixworth r. station, and 8 N E of Daventry; and has a post-office under Northampton. The parish contains also the hamlets of Coton and Teeton. Acres, 2, 871. Real property, £5,693. Pop., 701. Houses, 155. The property is subdivided. The manor belongs to Lord Willoughby de Broke. The living is a vicarage in the diocese of Peterborough. Value, £300.* Patron, Christ Church, Oxford. The church consists of nave, aisles, and chancel, with porch and tower; and has very fine arches, of horse-shoe form, separating the nave from the aisles. There are a Baptist chapel, a national school, and 33 acres of land for the benefit of the "honest and industrious poor."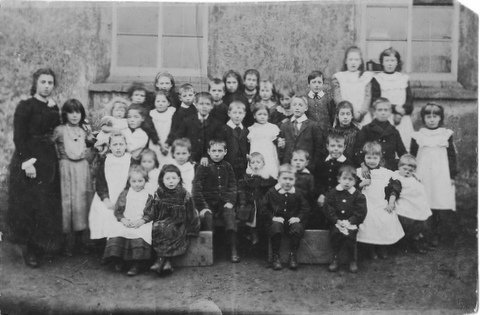 We are indebted to Carole Holiday from Bournemouth for sending in the photo and the following information:
"The Head (and only teacher) initially was Susannah Hollowell a Northamptonshire girl from Braefield-on-the Green. She was the Ravensthorpe schoolmistress from 1860 to 1902 and married a tailor, Henry Billing in 1878. The older girl on the right of the picture is their daughter, Elsie May, who joined her mother at the school as Pupil Teacher when she was 16 in 1900, when the picture was taken.
Henry Billing worked as a tailor in Ravensthorpe and was the census taker for the village in the 1891 and 1901 census, which involved going from house to house and writing the details down. Susannah and Henry are buried together in the churchyard at Ravensthorpe, Susannah in 1924 and Henry in 1928. Susannah and Henry were my Great-Grandparents and Elsie May my Grandmother on my Mother's side."
If you have some old photos and their back stories please drop us a line (editor@ravensthorpe.me.uk).