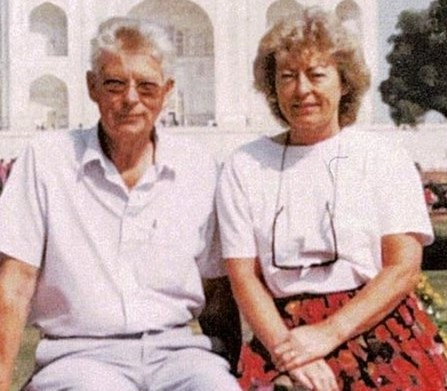 On May 9th, friends and family said farewell to John Patrick, who died aged 92 in April.
The following excerpts are taken mainly from the eulogy given by John's son Mark:
"John was born in the small Lincolnshire village of Alford (in 1930), in a house without power or even running water. It was a very different age". Soon after, the family was to move to Pinchbeck when his father, one of a line of policemen in the family, was transferred there. The new house had power ("but he still had to go to the pub across the road for a bath"), a large garden and an allotment, which sowed the seeds of John's lifelong interest in gardening. It was here also that John went to the local grammar school and although his education was interrupted by diphtheria ("and stopped him going further") … he "never stopped learning and always pushed the value of education" to his children and grandchildren. He was immensely proud of their achievements.
According to Mark, John "just missed serving in the Second World War by a few years", and after doing his National Service in the RAF (working on mosquitoes with the 421-night fighter squadron), he chose electrical engineering as his career and joined the Electricity Board, a company he would stay with for his working life. At this time he was a keen bowls and snooker player, and joined the local Conservative Club where he met his first wife Jennifer. Together, in Spalding, they (literally) built their first house, later moving to Wellingborough and then to Northampton. And then, in 1971, by which time "John and Jennifer (had) drifted apart and divorced", John moved to Ravensthorpe.
From the outset, John "immersed himself in Ravensthorpe village life" and it was here that he was to meet and marry Pat "the greatest love of his life". With Pat, came her two daughters Janet and Julie, and extended family through Trevor and Pat Foss, all of whom were to become increasinglyimportant to him, especially after Pat's sad and untimely passing in 1999. John was also a familiar patron of the Chequers, especially in more recent years, and his relationship with Gordon and Gill had always been an important and mutually supportive one.
In Ravensthorpe, closely allied to Eric Hickman who was to become a great friend, John's major project, was the Playing Field, of which he was committee Chairman for many years. He was instrumental in several developments and improvements, including the Children's Play Area and the Pavilion (completed in 2000). He was also involved with others, including his brother-in-law and friend Trevor in organising the Ravensthorpe Wool festival and, with Pat, setting up the Pocket Park. Together "they worked on its upkeep for many years".
John and Pat were great travellers and their travels included frequent visits to Australia, to visit daughter Janet and family, now settled near Darwin. Together, they also founded a charity, the Green Belt Foundation in Kisowke, Tanzania. This was responsible for the planting of 500,000 trees, and they visited regularly to see what was needed and what else they could do. Closer to home John and Pat organised the annual coffee mornings for Macmillan Cancer Support in the village, which John continued to organise following Pat's passing. "Right up to the last one (September 2021) – as Mark says— "John could be found selling raffle tickets by the door".
For over 50 years, John has been a stalwart of Ravensthorpe village life and his dedication (individually and in partnership with others, especially his wife Pat) to making the village a better place for current and future generations will remain very much in evidence for years to come. We are all very grateful for that.