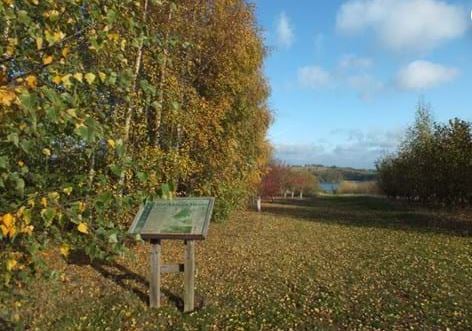 This native broadleaved woodland was planted by the Woodland Trust and local people to mark the millennium.
Located near to Ravensthorpe, Northamptonshire, the undulating former arable site has good views over the local reservoir. Top Ardles refers to the old field name.
The wood is bounded by mature hedges and grassy paths offer circular routes around the wood (detailed on an information board at the entrance).
Planting includes: oak, ash, field maple and hornbeam with woody shrubs at path edges. Groves of small-leaved lime, silver birch and Scots pine stand on the higher ground and open grassland allows unrestricted views of the reservoir.
Hazel and osiers have been planted and will be managed by coppice rotation, providing produce for local use.The Trust has created new native woodland on the site which abuts broadleaf plantation woods to the east, for the benefit of wildlife and to provide a local amenity.

The wood can be reached from the local recreation ground via a strip of land, at a field edge.
The path network is level but the surface can become wet in places.
Car parking is available at the recreation ground and the nearest bus stop is 200m from the wood entrance.