October Message from Rev. Chris Peck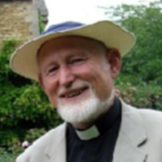 As I write this we have just had the hottest August Bank Holiday ever, while fires rage in the Brazilian rain forests. Whether we like it or not Global Warming is here, and will increasingly affect all our daily lives.
We have less and less excuse for not acting to reduce carbon emissions. The Bible is clear that at the
beginning of time God looked at his creation 'and behold it was very good'. Human beings were given responsibility for looking after this planet, and it is to our shame that the church has been complicit in our exploitation of the earth. One lesson history has taught us is that change can come about through tiny acts taken by lots of people. It is all too easy to think: 'What I do won't make a difference', or to point the finger at other countries: 'But they are polluting more than we are.' The necessary changes needed to secure the planet for our children and grandchildren are needed now, and it has to start with me and with you.
Looking forward, by the time you read this the evenings will be drawing in and we will be aware of the short days and long nights ahead. This is a time of year of mixed emotions as we celebrate harvest, giving thanks to God for his goodness, celebrate the lives of the saints on All Saints day, but then remember those dear to us who have died at All Souls, and those who have sacrificed themselves so that we can enjoy peace on Remembrance Sunday. And then before we know it we will be into Advent with Advent Sunday on 1st December and the run up to Christmas.
One of the themes of this time of the year is 'Gathering'. We celebrate the gathering in of the harvest; we gather together to remember and to support each other. The word 'church' literally means those who are called out to gather together. Why not join us as we gather to give thanks at harvest; gather to remember the saints on All Saints and our loved ones on All Souls; and gather to give thanks for those who sacrificed their lives, committing ourselves to work for peace in our world at Remembrance.
As we do so, let's not only work for peace among
nations but for peace with our earth, so that the prayer we sometimes use in our services: 'so we and all your children shall be free, and the whole earth live to praise your name' may become a reality in our world.